Toyo Tires has been focused on making tires people love for 75 years. Their
unique design and manufacturing technologies deliver high-quality,
long-lasting tires for nearly every vehicle from light trucks, SUVs, and CUVs
to sports cars, luxury sedans, and hybrids. Many of them are built in the
United States at their state-of-the-art factory in Georgia.
So, whether you're cruising through the desert or just cruising to work we're
confident you'll love your Toyo Tires
"Great traction off the line and in the corner"
- mcfrandon on Proxes RA1
Open Country R/T Trail
Lorem ipsum dolor sit amet, consectetur adipiscing elit. Aenean ornare mollis tempus. Duis consectetur est a lorem vestibulum, in condimentum nibh tempus. Ut auctor fringilla lorem
Learn More
Open Country R/T Trail
Lorem ipsum dolor sit amet, consectetur adipiscing elit. Aenean ornare mollis tempus. Duis consectetur est a lorem vestibulum, in condimentum nibh tempus. Ut auctor fringilla lorem
Learn More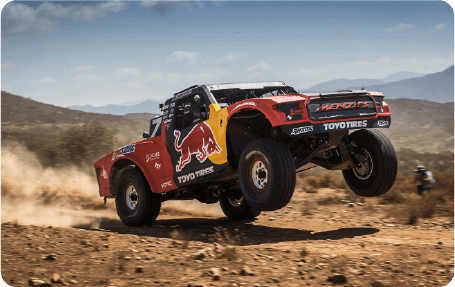 BRYCE MENZIES CLAIMS OVERALL VICTORY AT SCORE BAJA 400 AS TOYO TIRES WINS